Easy Curves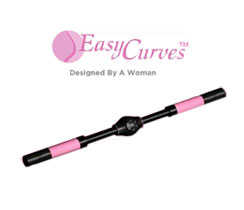 With Easy Curves you can get a more beautiful and fuller bustline injust 5 minutes a day.
Easy Curves features a patented dual-direction design that produces resistance when you push in and resistance when you push out.
This helps sculpt a beautiful bust line through a full range of motion. By strengthening and building the underlying tissue of the chest, you'll firm and lift the bustline.
In just 5 minutes a day you can get a visible lifting of the breasts, increase firmness by up to 30%, and increase bust size by 0.80 inches.
The results speaks for itself. The results for women using the Easy Curves for five minutes a day increased the average bustline from 36.4 inches to 37.2 inches after 30 days.
Get the Flash Player to see this player.
The Easy Curves system includes the Easy Curves Bust Enhancer, the Guide To A Sexy Bustline, 10 secrets to Looking Your Best guide, and a 30-day supply of Essential Boost for Women supplements.
You can order the Easy Curve system for just $9.99 plus the cost of shipping and handling. It comes with a 30-day money back guarantee.