Colon Health Check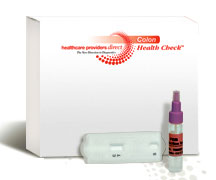 Colon Health Check is an FDA cleared home screening test for colon cancer. It can be completed in the privacy of your own home with no doctors and no nurses.
With over 150,000 Americans diagnosed every year with colorectal cancer, screening is extremely important.
Early detection is key when it comes to colon cancer. The five-year survival rate when detected early is 90%, compared to only 10% when it is detected at a late stage.
Colon Health Check is simple and easy to use. There are no special preperations or restrictive diets needed.
With Colon Health Check, you get results in just 5 minutes which are over 98% accurate.
Get the Flash Player to see this player.
You can order the Colon Health Check kit for just $39.95 plus the cost of shipping and handling.
Update: This offer has expired