Alteril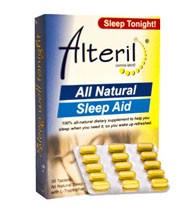 Alteril is the all natural alternative for getting the deep, restful sleep you need in order to wake up feeling refreshed in the morning.
It combine of 3 safe but powerful natural sleep aids to help you sleep better at night. They are L-tryptophan, melatonin and valerian.
These 3 key ingredients have been used for years to help those with insomnia and does not have the negative side effects of prescription sleep aids.
Along with the other natural ingredients, Alteril can help you get a good night's rest and wake up the next morning feeling energized for the entire day.
The combination of nutraceuticals works by interacting with brain receptors that are believed to help produce a deep restful sleep, helping you sleep faster and deeper.
Unlike prescription medications, Alteril does not have the morning hangovers, drowsiness, reduction in concentration, or interact with alcohol.
Get the Flash Player to see this player.
Simply take one or two tablets of Alteril an hour before going to bed and it can help you have a better sleep while waking up more refreshed.
A box of Alteril contains 30 total tablets and costs $19.99 plus shipping and handling. With this current trial offer you can get try Alteril 14 days risk free by paying $0.97 for shipping and handling.
Update: This offer has expired