Hairdo Bangs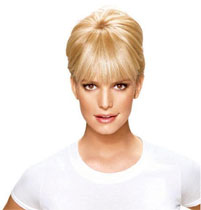 Hairdo Bangs from Jessica Simpson and Ken Paves are the amazing salon clip-in hair that lets you have instant bangs without the commitment of cutting your hair.
It looks and styles just like real hair. Plus not only do the Hairdo fibers style like real hair, they are also light, soft, and lustrous just like real healthy hair.
This is because the Hairdo Clip-In Bang are made with the newest Tru2Life heat friendly fibers and can withstand heat up to 350 degrees Fahrenheit.
The multi-tonal colors of Hairdo Bang have been created to blend in with almost anyone's hair color. It helps achieve the most believable, natural-looking hair.
With Hairdo Bangs you can change your hair style as often without having to cut your hair. All you have to do is clip it.
Get the Flash Player to see this player.
Hairdo Bangs is available in 9 different shades to work with any hair color from black to blonde. They sell for $24.95 plus shipping and handling each.
You can choose from Golden Wheat, Buttered Toast, Ebony, Ginger Blonde, Glazed Strawberry, Midnight Brown, Chocolate Copper and Ginger Brown.
Update: This offer has expired