EcoCanteen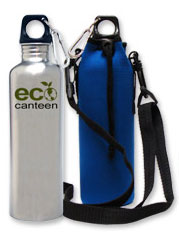 Be healthy and go green at the same time with the EcoCanteen, the stainless steel water bottle.
EcoCanteens help save money, save the environment and protect the health of your family.
Give up bottled water and you could potentially save thousands of dollars over the life of your Eco Canteen.
Also, disposable plastic water bottles are consuming our landfills, plus recycling plastic is an energy consuming process.
Some reusable bottles may even contain BPA, which can leach into the water you drink and be harmful to your health.
EcoCanteen is made with 100% safe and environmentally friendly stainless steel and has non-porous surface.
You can take the EcoCanteen anywhere including when hiking, at the gym, to work or just going for a quick jog.
It has a sports top with carabiner clip that you can use to clip it to your book-bag, purse, gym bag, or stroller.
With the EcoCanteen's extra wide mouth lid you can easily pour in any beverage or add ice cubes.
Get the Flash Player to see this player.
Now you can get the EcoCanteen for only $9.95 plus shipping and handling. Plus you'll get a free Insulated Tote to help keep you water cool. Just pay additional processing.
Update: This offer has expired