Supreme 90 Day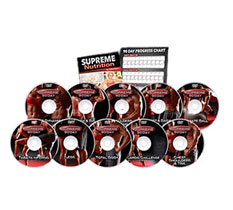 You can get ripped, strong and lean in just 90 days or less with the Supreme 90 Day workout. It is going to kick your butt and get your body ripped.
Ordinary workouts lose steam quikcly because your muscles plateau and you stop getting results. However Supreme 90 Day uses the power of muscle confusion to accelerate results.
Each routine contains shocking moves so your body will stay constantly challenged throughout the 90 day workout program. You will keep on getting into better shape and stronger.
With the Supreme 90 Day program it is possible to get into great shape and ripped without ever having to go to the gym.
Supreme 90 Day is  is backed by real science and the results speak for themselves. In an independent clinical study which was conducted, an astounding 88% of the participants were able to shed excess body fat, while sculpting their body with lean muscles.
Get the Flash Player to see this player.
The Supreme 90 Day system comes with a total of 10 Supercharged Workout DVDs. It is priced at only $19.99 plus the cost of shipping and handling so anybody can afford it.
But there's more because you'll also receive a set of free bonus gifts with your order. It includes the bonus Supreme Rock Hard Abs DVD, the Supreme Nutrition book by Tosca Reno, and a Success Chart.