Insanity Asylum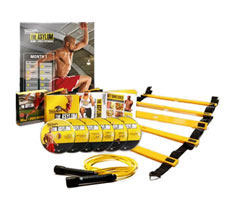 The Asylum is the 30 sports-training program that can help you develop an elite athlete body and dramatically improve your performance.
It is a continuation of the popular Insanity workout created by former track-and-field star Shaun T. Asylum is the first home training program of its kind to feature drills that are used by pro athletes.
Complete Asylum and you well have an unbeatable athletic edge. You'll become stronger, faster, more agile and quicker through the specially designed workouts.
The Asylum helps you become an elite athlete through a series of drills that utilizes plyometrics, speed, agility, strength, and core workouts in a series of progressions.
The included Agility Ladder and Speed Rope training tools will help you train your body train with more focus, concentration, and skill like professional athletes.
After the 30 days and completing the 6 intensive sports training workouts in the Asylum, you well be faster, stronger, and more agile than thought possible.
Get the Flash Player to see this player.
The Insanity Asylum Workout comes with 6 Workout DVDs, the Agility Ladder, Speed Rope, Workout Calendar, Guide Playbook and Nutrition Plan. It sells for 3 payments of $29.95 plus the shipping cost.
Plus you'll also receive two free bonus gifts with Asylum. It is the Overtime DVD with and extra 15 minute monster workout and the Athletic Performance Assessment tool to help you chart improvements in your fitness skills.