Cardio Cruiser Plus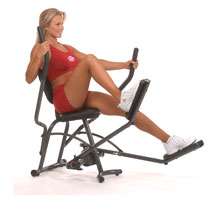 Introducing the new Body by Jake  Cardio Cruiser Plus, the 2-in-1 cardio and body sculpting system.
The Cardio Cruiser is an entirely new kind of cardio workout machine.
It  puts you in your fat-burning "cruising zone" while giving you a total body-toning workout all at the same time.
The secret behind the Cardio Cruiser Plus it's revolutionary design which features the Dual Action Motion.
It combines the powerful cardio and body sculpting movements of three of the most popular gym machines.
You will get the benefits of the recumbent bike, the upper body toning motion of the elliptical machine, and the lower body action of the stair mill all in just one machine and workout.
The Power Train technology in the Cardio Cruiser  incorporates 95% of the muscles in your body. You'll workout your arms, legs, hamstrings, hips, thighs and buns.
Plus it also provides an upper body workout to sculpt the muscles in your shoulders, arms, chest and back.
Get the Flash Player to see this player.
The Cardio Cruiser Plus retails for $299.70 but with this limited time offer you can save $75 and purchase it for only $224.70. But that's not all. You also get free shipping.
Update: This offer has expired