Verbal Advantage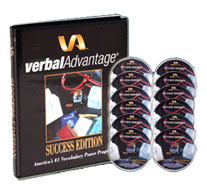 For over 23 years Verbal Advantage has been the the leader in audio education products.
Their system allows you to get the same volcabulary as a havard graduate's  vocabulary in just 15 minutes a day.
Verbal Advantage can substantially improve your overall vocabulary and communication skills, taking your vocabulary skills from a basic college level up to the level of a PhD.
The principal focus of Verbal Advantage is to help customers stregthen their vocabulary skills in order to help better their life.
Studies have shown that an increased vocabulary translates into increased finicial success.
When you master the words in this Verbal Advantage Success Edition, your vocabulary will surpass most executives and professionals, including those with advanced degrees.
Get the Flash Player to see this player.
The Verbal Advantage Success Edition includes 24 Audio CD's, 2 CD-ROM GuideBooks, and 2 Library Quality Binders.
This system normally costs $299 but right now you can save 33% and get the Verbal Advantage for just $199.