Slim Shots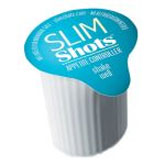 Diets are difficult but Slim Shots are easy. It is a unique patented and all natural liquid appetite controller.
By taking Slim Shots you can eat up to 30% less than you normally do.  It can reduce your calorie intake without leaving you feeling hungry.
Each Slim Shot works up to 8 hours and has been clinically shown to start working the first day.
Slim Shots are convenient and easy to take. Just shake well, peel back the foil and drink the entire content or mix it in with food or beverage.
They come in a great tasting vanilla flavor. You can add it to your coffee, yogurt, cereal or shakes.
Anyone who wishes to manage their appetite and moderate their food intake can use Slim Shakes. There are no jitters or side effects like from other diet products.
Get the Flash Player to see this player.
Right now when you order a 1 month supply of Slim Shots for only $39.99 plus shipping and handling.
Or you can take advantage of a buy 2 get 1 free offer and get a 3 month total supply of Slim Shots for just $79.98 plus shipping and handling.
Update: This offer has expired