CocoTrim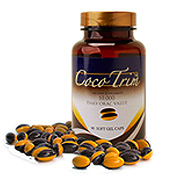 CocoTrim is the amazing chocolate flavored weight loss capsules that is a breakthrough product in the ongoing battle between obesity and weight gain.
It will help you beat cravings, burn fat and lose weight. CocoTrim uses patented ingredients that cravings and metabolizes carbs to prevent fat storage.
CocoTrim was formulated by Dean Tornabene, who is a renowned nutritionist and has served as a personal fitness and nutrition consultant to many celebrities.
The formula in CocoTrim contains the revolutionary D-8 Insinol Blend, which provides a multifactor approach to aid weight loss.
D-8 Insinol Blend helps address the issues of oxidative stress, insulin maintenance, appetite control, thermogenic support and energy levels.
CocoTrim comes liquid filled and easy to swallow soft gel caps. This allows it to absorbed at up to 200% faster than traditional dry tablets or capsules.
It does not contain any binders, fillers or artificial ingredients which can lead to stomach upset.
Get the Flash Player to see this player.
A 30-day supply of CocoTrim retails for $49.95 but right now you can get a 14-day free trial by paying $4.95 for shipping and handling costs with this online offer.
Update: This offer has expired