Flatbed Fireset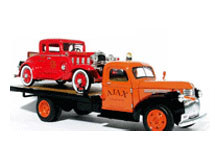 To celebrate Chevrolet's upcoming 75th anniversary, an authentic die-cast replica of the original 1941 Chevy Flatbed Car Carrier.
In order to make this an even better deal, it also includes the a die-cast model of the 1932 Confederate Series Fire Chief's Car.
The 1941 Chevy Ajax Flatbed is made to a 1:32 scale and is 8.25 inches long. The 1932 Fire Cheif is also a 1:32 scale and 5.25 inches long.
These replicas are made under the license of Chevrolet and is assembled using the original GM factory blueprints.
It features fully operating parts that includes:
Opening and closing doors and hoods
Dual headlights
Balloon tires
Heavy duty tow chains and hooks
Dual running boards and chrome grills
There's even a spare tire under the bed
Get the Flash Player to see this player.
With this current special offer you can get both replica models for just $10 plus the cost of shipping and handling.