Power StainLifter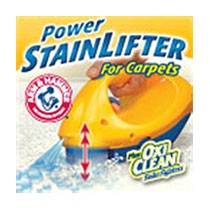 The Power StainLifter from Arm & Hammer is the new and super effective carpet cleaner. It will permanently remove your carpet stains.
It combines the odor fighting muscle of Arm & Hammer Baking Soda and the power of  the OxiClean stain remover to form a cleaning powerhouse.
Power StainLifter has been tested and proven to permanently remove the toughest stains and odors. You don't have to pre-treat or rinse your carpet anymore.
It is simple and easy to use. First just spray the stain with the Power StainLifter then push the button to activiate the brush.  When your done just blot with a paper towel or cloth.
Power StainLifter will remove all types of stains on your carpet including chocolate, coffee, ketchup, pet stains, blood, fruit juice, cola, red wine, oil, grease, ink, wine, mud, and more.
Get the Flash Player to see this player.
Through this introductory offer, the Power StainLifter is only $29.99 plus shipping and handling. As a special bonus you'll also receive a set of free items.
It includes 2 Sets of Cleaning Solution Pouches, a Microfiber Super Absorbent Cloth, and an Arm & Hammer Fridge Fresh.