H2O Mop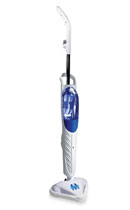 Now you can use water to steam clean your floors with the amazing H2O Mop. You no longer have to use detergents with harmful chemicals.
The H2O Mop is specially designed to thoroughly clean all types of surfaces. This includes marble, ceramic, stone, linoleum, sealed hardwood floor and parquet.
With the H2O Mop you get 1,500 watt to steam cleaning power. It is super maneuverable, super lightweight, and super easy to use.
The H20 Mop gives you effective cleansing power by converting water into steam and using a microfiber floor cloth that enhances absorbency. It gets rid of dirt, grimes and stains, kills germs, and even eliminate odors in a matter of seconds.
With the included Carpet glider the H20 Mop can instantly be converted into a carpet cleaner too. Use it to clean your carpets and kill the germs trapped inside.
Get the Flash Player to see this player.
The H2O Mop comes with the 1500 watt H2O Mop with 17 feet cord, measuring cup, 2 Microfiber Cloth Pads, carpet glider, and instructional manual. It is only 3 easy payments of $33.33 plus shipping and handling.
But there's more. As a special bonus you can also get a free H2O Portable Steam Cleaner with your order. You just have to pay the extra shipping for it.
Update: This offer has expired