Bona Mop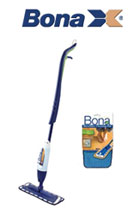 The Bona Hardwood Floor Mop is the last map you'll ever need to buy. It is a durable, premium spray mop like you've never seen before.
It combines a microfiber mop with a floor cleaner cartridge so you'll have the mop and cleaner all in one.
It works perfectly for all floor types, including wood, stone, laminate and tile. Unlike other mops and cleaners it doesn't leave behind dulling residue.
With the Bona Mop all you have to do is just spray and clean. There is no mixing, no buckets and no batteries or cords.
Bona's premium Microfiber Cleaning Pad picks up moisture and dirt like now other, leaving your floors clean.
It provides safe and effective cleaning without the use of toxic chemicals. Plus it is washable and reusable up to 300 times.
The Bona Hardwood  Floor Mop System Includes:
Bona Hardwood Spray Mop
Bona Hardwood Floor Cleaner
Easy Glide, Washable and Reusable Microfiber Pad
Get the Flash Player to see this player.
You can order the Bona Hardwood Floor Mop for just 1 payment of $39.98 plus shipping and handling or 2 easy payments of $19.99 plus shipping and handling. Plus with your order, you'll receive a bonus Microfiber Cleaning Pad for free.