MultiMaster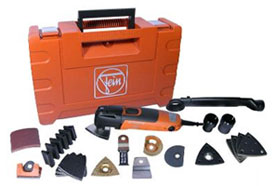 The Fein MultiMaster is the amazing commercial grade professional power tool that is perfect for home remodeling and renovation.
It is 7 tools in 1 and is easier to handle, more precise and safer to use than other power tools.
The MultiMaster has variable oscillating speed along with a broad assortment of accessory blades to handle hundreds of previously manual tasks.
You can use the MultiMaster to detail sand, saw wood, plastic, fiberglass and metal,  undercut, notch, plunge cut, flush cut, scarp, remove grout and more.
The secret behind the MultiMaster is in the oscillation. It doesn't rotate or orbit like other power tools. It oscillates at up to 350 times per second.
The oscillation allows you to do extremely fine and delicate work or be more aggressive depending on the accessory blade and material.
The Fein MultiMaster Home Remodeling Kit includes the MultiMaster along with these 10 accessories:
FMM 250Q – Variable Speed Quick Change Tool
Triangle Sanding Pad without holes with hook & loop fastener
Triangle Sanding Pad with holes for dust extraction
40 Sheets of Sand Paper (20 with holes, 20 without holes)
Dust Extraction Attachment
Profile Sanding Attachment
E-Cut Universal Blade
High Speed Steel Segment Saw Blade
Scraper Blade
Grout Cutting Blade
Carbide Rasp
Get the Flash Player to see this player.
You can order the MultiMaster for just 4 easy payments of $99.75 or 1 easy payment of $399.00. It comes with free expedited processing and shipping.