Half Time Drill Driver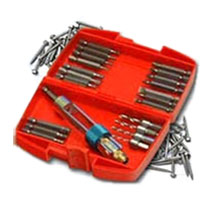 The new Half Time Drill Driver takes the hassle out of having to switch back and forth between drill bits and driver heads. You'll be able to save time and complete your home construction projects faster.
You'll never have to change drills bits in the middle of the job again. The innovative design of the Half Time Drill Driver lets you drill, flip, and then drive in just five seconds.
It works with the existing tools you already own and makes them better than before. You can go from drilling to driving, philips to flat, or any other combination you choose.
To use the Half Time Drill Driver you just choose two different size bits, drill your pilot hole, and then flip the pivot arm to drive in any screw, nut, or fastener.
The secret is the patent pending swivel head which flips and locks. It gives you precision performance and lets you switch from drilling to driving in just seconds.
It helps you save on time for consuming projects where you have to constantly switch between drills and drivers. Also you now no longer have to change drills and bits while on a ladder, which can be dangerous.
Get the Flash Player to see this player.
Each Half Time Drill Driver set comes with the Driver Body, 4 Phillips head adapters, 4 flat head adapters, 4 drill bits and a Durable carrying case. It sells for $19.95 plus shipping and handling.
But right now there's a buy 1 get 1 free offer you'll receive another Half Time Drill Driver set. You just have to pay the extra shipping and handling of the free set.