skiniD Acne Solution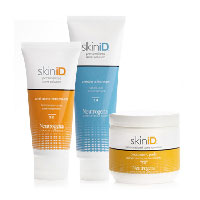 The Neutrogena skiniD acne solution is a personalized acne treatment that delivers the best results for each individual. It claims to be twice as effective as other leading OTC solutions.
The reason skiniD works better is because it provides the best regimen for each person based on information provided in their skiniD Evaluation.
The skiniD Evaluation consists of a series of questions that were created by dermatologists to help determine your skin type. The entire process takes just around 5 minutes.
Once you completed the skiniD Evaluation, you'll be presented with a personalized regimen that will be most effective for you.
Each personalized 3–product skiniD regimen contains just the right amount of active ingredients to cleanse the skin, clear away acne and protect against future breakouts.
In a clinical study of 500 participants, 100% of the users of skinID showed clearer and healthier looking skin. Plus it was twice as effective as Proactiv in clearing acne and produced results in half the time.
Get the Flash Player to see this player.
Each skiniD system comes with Gel Cleanser, Anti-Acne Treatment, and Moisturizer. It costs $19.99 per month plus shipping and tax.
Right now when you complete your skiniD evaluation and order skiniD, you'll get 3 free bonus gifts. They are a Body Spray, Fast-Acting Acne Spot Treatment, and Travel Bag.