Proactiv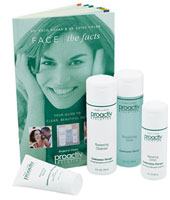 Proactiv is the best selling acne solution in America. Now the formula has been enhanced for even better results to provide you with the best anwser to acne.
There is a good reason that Proactiv has been endorsed by top celebrities, including Jessica Simpson, Vanessa Williams, Katy Perry, Julianne Hough and Justin Bieber.
Proactiv Solution is different than other products and treatments. It's a revolutionary, dermatologist-developed, 3-step system that clears and helps prevent breakouts.
Take action today and with three steps to a clearer tomorrow. Proactiv's three step system includes a Renewing Cleanser, Revitilazing Toner, and a Repairing Lotion. They work together to systematically combat and eliminate your acne.
The new Proactiv now features micro-crystal acne medication in order to penetrate into the pores quicker to get rid of acne even faster than before.
Get the Flash Player to see this player.
Order a 90-day supply of Proactiv for just $19.99 and it even comes with free shipping. But that's not all because you'll also receive the Green Tea Moisturizer, a Refining Mask and the doctor's guide to clear skin for free with your order.