Perfect Skin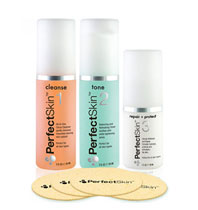 The Kardashian sisters are known for having sexy and beautiful skin and one of their secrets for doing so is with a skin care system they help develop called Perfect Skin.
Kim, Khloe and Kourtney each actually have different skin types. Kim's skin is dry and sensitive, Khloe has oily skin that is prone to acne while Kourtney has slightly oily skin.
However Perfect Skin worked for all three sisters since it was specifically formulated to work for all skin types by directly targeting unique skin issues and repairing damaged caused by f ree radicals.
The Perfect Skin 3-Step Solution was by a team of experienced chemists that is led by world-renowned scientific researcher and dermatological Dr. Ron DiSalvo and with the Kardashian sisters consulting each step of the way.
This simple, easy to use and effective skin care system is separated into three steps that is used daily. They are called Cleanse, Tone, and Repair.
You first wash your face with the Perfect Skin Cleanser, which contains powerful antioxidants and nutrients. When used with the exfoliating scrub pads it easily removes makeup, toxins impurities and dead skin cells.
After you are finished you apply the Perfect Skin Balancing and Refreshing Toner that is alcohol-free. It contains ingredients that includes herbal extracts from cucumber, chamomile and ginseng to soothe and calm the skin.
The last step is applying the Perfect Skin Intense Moisture and Repair Complex. It delivers 18 different nutrients to keep the skin hydrated protect against free radical damage. Over time it aids the skin in rebuilding and repairing the structural support of the skin cells.
Get the Flash Player to see this player.
The Perfect Skin 3-Step Solution last for about 30 days and costs $29.95 plus shipping and handling. The three products plus 4 Exfoliating Scrub Pads are included.
Or you can order the Perfect Skin 5-Piece Deluxe Kit for just $39.90 and get free shipping and handling. It includes everything in the 3-step system and adds the Perfect Skin Mask and the Perfect Skin Brightening Restoring Eye Cream.