Cellulean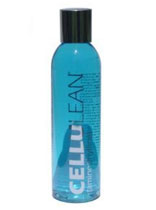 Cellulean is the proven treatment system that can diminish the appearance of cellulite in as little as two weeks.
The formula is so effective because of the main active ingredient is pharmaceutical Aminophylline 2%, which is proven to cause fat cells that produce cellulite to dissolve away.
In addition, Cellulean also contains other nutrients, antioxidants, and peptides that help combat cellulite and restore the skin.
Cellulean will help stimulate collagen production and significantly reduce the fat cells under the skin that causes cellulite. It rebuilds the skin's elasticity and make the skin smoother, firmer and healthier.
Unique to Cellulean is the Trans-Derma-Fuse Delivery System which helps deliver Aminophylline and the other proven ingredients deep into the skin in order for maxium effectiveness.
Cellulean works and is safe to use on all skin tones and skin types. The product is manufactured in the United States to ensure the purest quality standards.
Get the Flash Player to see this player.
A single bottle of Cellulean costs $79.95 and last for about 1 month. Currently there is a risk-free trial offer available where you can try Cellulean first for 14 days risk free by paying the shipping and handling cost of $4.95.