Plaque Blast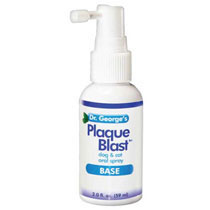 Dr George's Plaque Blast will help keep your pet's breath fresh, their teeth white and their gums healthy. It is a convenient and easy to use oral spray for dogs and cats.
Plaque Blast provides an easy way to care for your pet's teeth and gums. Just spray in your dog or cat's mouth to reduce tarter, plaque build-up and bad breath.
The formula is alcohol-free and starts working right away. When used regularly it'll help reduce and control tartar, plaque, and bacteria.
Plaque Blast was created based on 10 years of research and development by Dr George. He is a dentist with studies focusing on veterinarian medicine and biochemistry.
The formula in Plaque Blast is proven to noticeably reduce the tarter and plaque build-up in the mouth of your dog or cat. It works for dogs and cats of all breeds and sizes.
To use Plaque Blast you first mix the activator into Plaque Blast base bottle for the solution to work. Then simply spray it into the mouth of your pet.
Get the Flash Player to see this player.
Plaque Blast sells for $10 plus the cost of shipping and handling. But with this buy 1 get 1 free offer, you'll receive an additional Plaque Blast for free by paying the extra shipping.
But that's not all because you'll also receive a free bonus Crazy Critters Fox dog toy with your order. This special offer is not available in stores.