Iceland Health Omega-3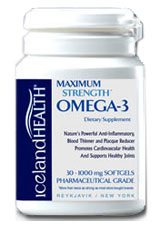 Live a longer and healthier life with maximum strength Omega 3 from Iceland Health. They are one of the highest quality Omega 3 fish oil available on the market.
They contain 100% natural fish supplement from Iceland. Each soft gel contains 1,000 mg each of pharmaceutical grade Omega 3.
Over 100 million individuals worldwide have experienced the benefits of Omega 3. They have seen improvements to their health and longevity, increased energy levels, sleeping better at night and improved memory.
Icelanders who have a diet that is rich in fish and fish oi have some of the lowest rate of heart disease, stroke, blood pressure, cholesterol, and joint problems in the world.
This is because fish in the deep, cold, clean waters of Iceland have 2 remarkable nutrients,EPA and DHA, not commonly found elsewhere.
These nutrients both thin the blood and reduce inflammation in the joints and blood vessels thereby reducing the strain on our hearts, enhancing easy blood flow to the brain, and helps relieve aches and pains.
Now you can get those same benefits from taking Iceland Health Omega-3 capsules.
Get the Flash Player to see this player.
Order a bottle of Iceland Health Omega-3 capsules for $49.95 plus shipping and handling. Buy in bulk and you can take advantage of the buy 2 get 1 free, buy 3 get 3 free, or the buy 5 get 7 free offer.
Update: This offer has expired