LipStix ReMix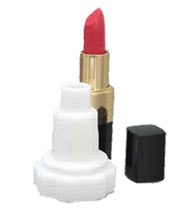 With LipStix ReMix kit you'll never waste lipstick again. It lets you create new colors and looks using your old lipstick leftovers.
It is a fun, easy and affordable way to recycle any old lipstick leftovers you have and create a new professionally shaped lipstick in just minutes.
The secret is in the Magic Molder, which lets you make a professionally shaped lipstick right down to the slanted tip design.
With the LipStix Remix kit, it never has been easier to recolor, recover and repair your old leftover lipstick to create a brand new one. It is fun and you'll be saving money.
Using LipStix Remix is easy, it works in three simple steps. First you just place your leftover lipstick colors into the mixing cup. Next you place it inside the microwave and set it to 45 seconds max to melt them.
Afterwards you pour it into the Magic Molder and then place it inside your freezer for about 10 minutes. Afterwords take it out and slip on the designer tube. Your brand new lipstick is now ready to use.
Get the Flash Player to see this player.
Each LipStix Remix kit comes with the Magic Molder, 2 Mini Mixing Cups, 4 Recovery Wands, 4 Designer Tubes, 4 Storage Containers, a Cosmetic Bag,  stickers for labeling, and an instruction sheet.
Normally a single LipStix Remix kit sells for $19.95 plus shipping but right now there is a buy 1 get 1 free offer which is available. You'll get a second LipStix ReMix kit for free by paying the extra shipping charge.