Scoop-It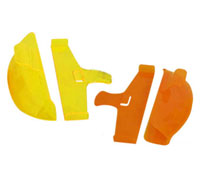 Scoop-It is the handy picker upper for your kitchen. You just swoop it, scoop it and pour it, all without ever getting food on your hands.
You can quickly transfer your foods from the chopping board and into the pan or pot. Your hands will never have to touch the food and nothing is left behind.
The Scoop-It is great to use for onions or garlic since you won't get the smell on your hands. You can just scoop it and pour it in.
Whether it is chipped, chopped, sliced or diced food,  Scoop-It is one of the fastest way to pick transfer food for the chopping board. Use it for vegetables, fruits, meats and more.
The secret is a mitered edge, ergonomic design, and open-ended pour spout that lets you scoop, pick and pour quickly and easily.
Scoop-It is made with a BPA free plastic and can easily be used by left-handed or right-handed. Clean up is easy too since it is dishwasher safe.
Plus Scoop-It isn't just for the kitchen either. It can be used throughout the home for easy cleanup. Use it to pick up nuts, bolts, marbles, puzzles, beads, or other small toys.
Get the Flash Player to see this player.
With this current offer you get a set of  the Yellow Scoop-It for the Kitchen and an Orange Scoop-It for the rest of the home for just $10.00 plus shipping and handling.
Plus as a special bonus you'll also get a free Nokes Knife with your order by paying the extra shipping. It is a 4-in-1 Knife that peels, cuts, saws, and open bottles.