Ronco Six Star Knives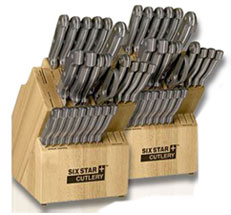 With this incredible Ronco Six Star Knives special offer, you'll get all the knives you will ever need.
Since they are all guaranteed to stay sharp and last a life time, you'll never have to buy another knife again.
The Ronco Knife Set is a complete 25 piece set with all the knives and accessories for everyday use and gourmet food preparation.
Each piece is invented by Ron Popeil and is crafted with superior high carbon stainless steel. They will never lose their super sharp edge.
The knives are perfectly balanced for fine control and has impact-resistant black handles for a gorgeous look.
This 25 piece Ronco Six Star Knives Set includes: 
Showtime Knife
Professional Carving Knife
Large Fillet Knife
Bread and Bagel Knife
Chef Knife
Saw Knife
Boning Knife
Sportsman Knife
Chop & Serve
Cheese Knife
Cleaver
Carving Fork
Utility Paring Knife
Small Paring Knife
Garnish Knife
Kitchen & Poultry Shears
Knife Sharpener with Stone and Grinding Wheels
8 Steak Knives
Get the Flash Player to see this player.
You can get this amazing Ronco Knife set for just 3 easy payments of $13.33 or 1 payment of $39.99 plus shipping and handling.
But that's not all. With this current buy 1 get 1 free, you'll receive another set of 25 Ronco Six Star knives for free. Just pay additional shipping and processing.
There's even more. Each set of knives also comes with a free solid flavor injector. Use it to inject flavors into meat, cakes, pastries and other foods.