Ronco Rotisserie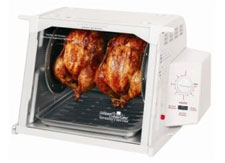 Ron Popeil is celebrating his 50th anniversary on television with this special offer for the Ronco Showtime Rotisserie.
With this amazing Ronco Rotisserie you can eat healthier and save time. Simply set it and forget it.
Use it to slow-roast amazing prime rib, cook delicious salmon or any of your favorite dishes that you love.
Ronco Rotisserie has been regarded by health specialists, magazines and top chefs worldwide. 
This compact version can cook up to a 10 pound turkey and your hams, steaks, ribs, roasts and more.
It has adjustable  heat settings and rotation settings to suit your needs. The 13″ wide Ronco Rostisserie will fit on practically any counter-top and still accommodates two 3 lb chickens or a 10 pound turkey.
Get the Flash Player to see this player.
With this special offer you well also receive free accesories with your Ronco Oven. It comes with BBQ gloves, chicken ties, spit holder, carving base, instructional video, oven drip pan, and recipe guide.
You can order the Ronco Showtime Platinum Rotisserie in either black or white for just 5 easy payments of $19.95 plus shipping and handling or 1 easy payment of $99.95 plus shipping and handling.