Always Fresh Containers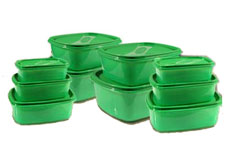 Always Fresh Containers are the ultimate food storage solution. It can keep food fresh for up to 50 days longer then ordinary food containers.
These smart storage containers are made with a natural and environmentally friendly material that is anti-microbial and integrates nanotechnology.
It will extend the lifespan of of your fruits, vegetables, meats, cheeses, breads, sauces, soups and almost any type of food.  
It does so by absorbing and removing food-spoiling ethylene gas released during the natural ripening process.
Always Fresh Containers will also help prevent vitamin loss. So not only will food taste fresh but will also have the same nutritional value like fresh food.
This amazing reusable home food storage sytem is also dishwasher safe and can also be safely used in the microwave (without the lid).
Get the Flash Player to see this player.
You can get a 10-piece set of 5 Always Free Containers for only $9.95 plus the cost of shipping and handling.  Use it to keep all the foods in your fridge fresh.