Pillow Pets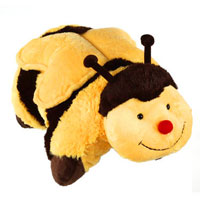 Pillow Pets are the cute, huggable stuffed animal that can pop open into full sized pillows. These adorable pillows are soft and cuddly, which kids love.
They are perfect for birthdays, christmas, other holidays, or any other special occasion. It is both a pet and also a pillow.
You simply undo the Velcro strap and the Pillow Pet will pop open into a full size pillow. Just fold it up, reattach the Velcro, and it is a cuddly animal again.
Pillow Pets are great for play time, sleep time, any time! Kids of all ages love their Pillow Pets. There are over 28 different animals to choose from.
There's a panda bear, a ladybug, a frog, a dog, a unicorn, a dolphin, a bumble bee, a turtle, and so many more cute animals.
Get the Flash Player to see this player.
Every child needs a pillow, so why not give them a fun pillow? Pillow Pets provide comfort, companionship, and security for your child. This is not just another stuffed animal that'll take up space.
The Pillow Pets are recommeneded for children age 3 and up. You can order the Pillow Pets for only $19.99 each plus the cost of shipping and handling.