YuDu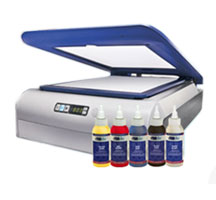 YuDu is the world's first all-in-one tabletop screen printing system. It delivers professional quality printing right from your own home.
Unlock your creativity and personalize anything. This includes t-shirts, handbags, jackets, home decors, cards, crafts, and much more.
With YuDu is like having an entire screen printing factory in one compact machine. The possibilities you can create are endless.
It is simple and easy to use. Anyone can do it even for those that have never created anything before. YuDu practically does all the work for you.
YuDu works all almost any surface. This includes glass, wood, metal, plastics, vinyl, and fabrics. You can bring your old clothing up to date with fabulous designs.
The YuDu Screen Printing System comes with:
YuDu System
110 Mesh Screen
Squeegee
3x Transparencies
3x Emulsion Sheets
Inks: Red, Black, Blue, Yellow
T-Shirt Platen
Image CD
How to DVD
Quick Start Guide
Get the Flash Player to see this player.
The YuDu system is valued at over $200 but right now you can special 30-day trial offer available. You can try YuDu in your home for 30 days by paying $33 plus the cost of shipping and handling.
In addition you'll receive a set of free bonus gifts valued at over $120. It includes a Pre-Exposed Screen, Free T-Shirt, Deluxe Mixing Set, 6x Cards & Envelopes, 220 Mesh Screen Mat, and a Greeting Card Mat.