ZQuiet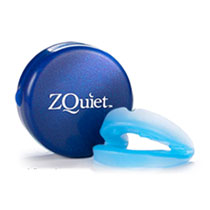 The ZQuiet is an anti-snoring mouthpiece that provides instant, natural snoring relief. You can now sleep better at night and not keep your partner up.
ZQuiet is dentist designed and recommend. It has been FDA cleared to treat snoring and works the instant you put it on.
Unlike other anti-snoring mouthpieces, ZQuiet is comfortable to wear and lets you breathe freely and naturally through your nose and mouth.
ZQuiet works by naturally widen that airspace in the back of your throat, to eliminate the vibration that causes snoring. Dentists have used a similar method for over 25 years to cure snoring problems for their patients.
However with ZQuiet you don't have to visit the dentist or pay the high cost to get the same snoring treatment. It's works right out of the box. There's no preparation, no set-up, and no lengthy molding process.
With ZQuiet you get both an effective and comfortable to use snoring solution. It has a Living Hinge Technology which lets your jaw move naturally while you sleep. You won't wake up the next day having a sore jaw.
Get the Flash Player to see this player.
The ZQuiet sells for $59.95. Right now you can take advantage of a trial offer and try ZQuiet for 30 days first, risk-free. You just have to pay the shipping and handling cost of $9.95.
You'll receive the ZQuiet, a travel case and instructions showing you how to use ZQuiet to help end your snoring.