Triple Action Joint Formula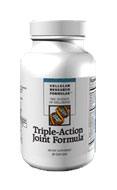 Revitalize, lubricate, and soothe your joints with Triple Action Joint Formula. You no longer have to stop the activities you love doing because your joints feel tired or worn from age.
Triple Action Joint Formula provides your joints with another way to feel healthy, comfortable and flexible.
This unique and powerful soft-gel formula contains optimum concentrations of nutrients for the three dimensions of joint-health support.
First it revitalizes worn cartilage with Glucosamine, Chondroitin and MSM. Second it lubricates and keeps joints moving with Omega-3 Essential Oils. Last but not least it soothes your joints with Boswellia and Turmeric with SAM-E.
Triple-Action Joint Formula is different from other joint-health supplements.  It uses the latest encapsulation technology and comes in a fast-acting liquid soft-gel capsule for enhanced absorption.
Plus, Triple-Action Joint Formula features the patented compound called Bioperine. It further enhances the absorption of many key vitamins and nutrients.
You can order a 1-month supply of Triple-Action Formula (90 soft gel-capsules)  for just $49.99 plus shipping and handling. Or buy a 2-month supply at once to save $30 and get free shipping and handling.