OPC Factor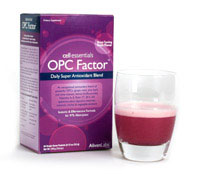 OPC Factor from cell essentials contains the most powerful antioxidants on Earth and is the smartest way to absorb them.
It is one of the leading health products for detoxifying your body of waste, fat, sugar build up, free radicals and even parasites.
If you are suffering from low energy levels, frequent illness, high cholesterol, or joint and muscle pains then OPC Factor can help.
OPC Factor has also been proven to help fight free radical damage, increase energy, reduce inflammation, decrease cholesterol levels, diminish joint and muscle pain, reduce PMS, reduce food cravings and improve overall health.
The all-natural and antioxidant rich formula in OPC Factor contains red wine grape skin extract, grape seed, French maritime pine bark, Bilberry extract, Lycopene, Vitamin A, Ester C, Vitamin E, Selenium and much more.
OPC Factors comes in an effervescent drink mix form with a great tasting fruit flavor. It allows for maximum absorption and at much higher rates than pills or capsules.
Get the Flash Player to see this player.
Order a box of OPC Factor for just $59.95 plus shipping and handling. With your order you'll get a second of 4 free bonus gifts.
They include The Aging Antidote book, a free quick start guide, a free Restore Face Creme and "The Miracles of OPCs" informational DVD.