In An Instant Heidi Klum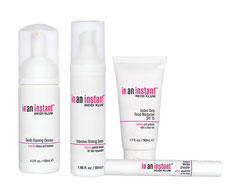 In An Instant by Heidi Klum is an amazing new wrinkle-erasing breakthrough that works in just seconds to diminish the look of fine lines and wrinkles.
All you have to do is just twist, apply, and watch as visible lines and wrinkles instantly smooth away and magically disappear.
The secret is the magical moisture sphere technology used. It fills in wrinkles to virtually erase the appearance of forehead lines, laugh lines, crow's feet and more.
In addition, the products in the In An Instant system is designed to stimulate collagen production, boost critical moisture, reduce pore size, and improve the brightness of the skin.
The In An Instant system was developed when Heidi Klum wanted a solution to erase line and wrinkles without the need for injections. She went to Simone Ciafardini, a top skin care specialist, and together they created In An Instant.
The The In An Instant Skin Care System includes these 4 products:
Instant Wrinkle Smoother
Gentle Foam Cleanser
Intense Firming Serum
Instant Tinted Daily Moisturizer with SPF 15
Get the Flash Player to see this player.
With this special introductory offer you can get the 30-day introductory kit of In An Instant for just $39.95. This includes free shipping and handling.
But there's more. You'll also receive  2 surprise gifts, worth $40 total, with your order for free.