Hydrolyze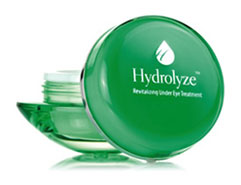 You can quickly get rid of dark eye circles and eye bags with Hydrolyze Revitalizing Under Eye Treatment. It can reduce the appearance of dark circles by as much as 45% and bags under the eye by up to 68%.
The secret behind Hydrolyze is the powerful combination of Haloxyl and Matrixyl 3000. Hydrolyze uses the power of Haloxyl to reduce the appearance of serious dark circles. In over 60% of study volunteers, discoloration was reduced as much as 45%
Matrixyl 3000 is another powerhouse anti-aging ingredient. This clinically proven compound stimulates collagen production to help reduce the appearance of visible deep wrinkles and increase the firmness of your skin.
Many have already experienced younger and brighter looking eyes thanks to Hydrolyze. In a survey of Hydrolyze users, 98% said they would recommend the product to a friend.
89% said they noticed a visible reduction of dark eye circles and eye bags. 89% also said they received a compliments on their skin after using Hydrolyze.
Get the Flash Player to see this player.
A jar of Hydrolyze normally retails for $79.95 but currently there is a special free trial offer available. You get to try 2 jars of Hydrolyze for 30 days risk free.
All you have to do is pay the shipping and handling cost of $6.95. In addition, you'll also receive a bottle of the Hydroxatone Balancing Toner, worth $40, free just for trying Hydrolyze.