Freeze 24-7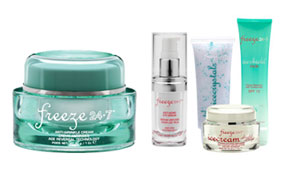 Look and feel younger today with Freeze 24-7. You can reduce the signs of aging in just minutes and see up to a 90% visible reduction of fine lines and wrinkles.
Just a small dab in the morning and in the evening will keep you looking young and youthful throughout the day.
Freeze 24-7 works on crows feet, under eye circles, forehead wrinkles, lip lines, and other signs of aging.
Many stars, celebrities, models, and makeup artists have been using Freeze 24-7 as their secret to prevent aging.
Freeze 24-7 has been featured before in many top beauty magazines and in the news and talk shows. It has been named an Allure Magazine Editor's Pick.
The secret behind Freeze 24-7 is their potent GABA FX Complex. It contains Gaba, the body's natural muscle relaxant, along with Gynostemma to diminish the appearance of fine lines and wrinkles.
Get the Flash Player to see this player.
Freeze 24-7 is currently offering a special 30-day free trial offer where you just have to pay $9.95 for shipping and handling. Or you can purchase the entire system for just 2 easy payments of $49.99.
The offer includes the Freeze 24-7 Instant Targeted Wrinkle Treatment, Anti-Aging Eye Serum, Anti-Aging Prep & Polish, Anti-Aging Moisturizer, and the Ice Shield Facial Cleanser w/ SPF 15 protection.
Update: This offer has expired