Dual Action Cleanse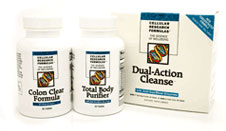 Dual Action Cleanse is the extremely popular and best selling colon cleansing formula in America.
The Dual Action Cleanse system includes a Colon Clear Formula and a Total Body Purifier which together helps cleanse and purify your system.
The Colon Clear Formula  is designed to unclog the colon and get rid of the waste and toxins built up inside. This causes you to feel lighter and cleaner while having increased energy levels.
The Total Body Purifier is designed to help support the different organs inside the body. The formulas aids over 29 specific body parts. It helps filter organs, including the liver and kidneys, in order to help reduce toxins in the body.
Get the Flash Player to see this player.
You can purchase the Dual Action Cleanse for $79.90 plus the cost of shipping and handling. Take advantage of the auto-delivery program and you can get $20 off and get Dual Action Cleanse for just $59.95.