WEN by Chaz Dean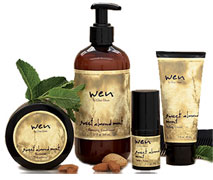 Chaz Dean's WEN Healthy Hair Care System is a new approach to the way you cleanse your hair.
WEN is made with natural ingredients and and does not contain sodium laurel sulfate or other damaging detergents found in other shampoos.
The products doesn't lather and instead create a smooth foam when mixed with water. It uses a single-step process that cleanses and conditions the hair simultaneously.
The WEN system was created with a perfect balance of ingredients that includes herbs and natural ingredients to not only cleanse your scalp and hair but to also moisturize, soothe, strengthen and add sheen.
Celebrity stylist Chaz Dean invented WEN after seeing how shampoo had damaged the hair of his clients. With WEN, color lasts much longer, and it also stimulates the scalp to promote blood circulation and healthy hair growth.
Get the Flash Player to see this player.
The WEN Healthy Hair Care System comes with the WEN Cleansing Conditioner, WEN Styling Creme, and WEN Re Moist Intensive Hair Repair Mask.
With this current special offer, you'll receive a free bonus WEN Texture Balm and free bonus WEN Wide Tooth Shower Comb.
You can order WEN for only $29.95 plus the cost of shipping and handling. It comes with a 60-day money-back guarantee.