Slique Hair Threader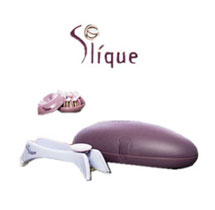 Discover a fast, convenient and painless hair removal method with the amazing Slique Hair Threading System.
Hair threading is a time honored method of hair removal that has been used in Asia and the Middle Asia that has been pasted down for centuries.
Hair threading treatments is now available in many spas across the United States and Europe. With Slique you can get spa quality hair threading right in your own home.
Hair threading works by having a twisted thread loop capture and remove hairs from the follicle. It is precise,  fast, and clean.
The design of Slique holds the thread like a professional aesthetician does so you can easily remove unwanted hairs by yourself.
With tweezing you have to remove hairs one at a time but Slique will remove an entire straight line of hair all at once. Plus unlike waxing, it doesn't hurt or irritate the skin.
The Slique Hair Threader was designed so women anywere can easily remove hair safely from the cheeks, chin, forehead, upper lip, arms, legs ,fingers, toes and other areas.
Get the Flash Player to see this player.
The Slique Hair Treading System comes with the Slique Threader, a set of 10 epilation threads, a carrying case,  an instruction DVD and manual. Through this exclusive offer it is only $39.99 plus shipping and handling.
Plus 2 free samples of Slique's Epilation Skin Care Collection is also included. They are used to help calm the skin before hair removal and soothes the skin after removing unwanted hair.