Bumpits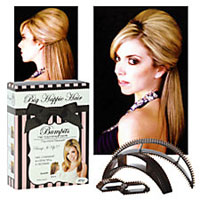 Bumpits are the amazing volumizing inserts that can transform your hair from flat to simply fabulous.
They are self gripping hair inserts and will give you instant volume. Get a look like you just stepped out of the salon.
They will stay firmly in your no matter what hair style you have.
You can wear Bumpits while dancing, working out, during work, shopping, or at formal events and they will stay in place.
The secret is the raised patented edging which allows Bumpit to firmly grip any hair type whether think or thick.
Bumpits are available in 4 shades so you can get a perfect color match. They include Light Blonde, Dark Blonde, Brunette and Black.
Get the Flash Player to see this player.
You can order Bumpits, which includes 2 Large Bumpits Inserts, for only $19.99 plus shipping and handling.
Plus you'll receive 2 free Mini Bang Bumpit Inserts and 1 free Hollywood Bumpits Inserts. Just pay additional shipping.