Curactin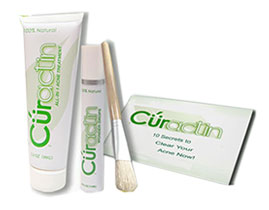 Curactin is the 100% all natural acne treatment solution that is effective, safe, and pure. The natural formula has been scientifically tested and proven to be effective.
With Curactin there is just one simple and easy step. The all-in-one solution will unclog pores, kill acne causing bacteria, and clear your skin.
There are no soaps or harsh chemicals that can make your skin worse. All you have to do is smooth Curactin on, let it activate, and  rinse it off once a day.
Curactin is the only 1-step, FDA compliant, 100% natural, over the counter acne solution in the world and it works.
Combined with a 100% natural cleansing system, this 1 step, daily acne treatment will heal and restores your skin. This system will exfoliate, cleanse, treat and balance your skin.
Get the Flash Player to see this player.
This special offer for Curcatin includes a tube of Curactin, a Treatment Brush, Rosewood Wonder Drops, and the 10 Secrets to Clear Your Acne Now guide. It is only $19.95 plus the cost of shipping and handling.
But there's more because you also get 2 free bonus gifts. They are the Curactin Ultimate Solution formula and Micro Polish. Together they will help improve the smoothness and shine of the skin.
Update: This offer has expired