Xtreme Cardio Dance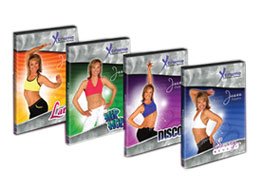 The same creator that brought you Core Rhythms now brings you Xtreme Cardio Dance. It is the hottest total body dance workout.
Sculpt the lean sexy body you've always wanted and feel sexy with world class dance moves. You'll burn fat and get flatter abs while having fun.
Xtreme Cardio Dance is a 4-disc DVD set that includes Latin, Hip Hop, Disco and Sexy Sculpting DVDs designed to help you achieve a professional dancer's body.
With Latin Cardio you use sexy Latin dance moves that blast fat from the start and gets you in shape like the stars. It helps strengthen your body from head to toe.
Take it to the max with Hip Hop. It is an exhilarating, fun, and sexy hip hop cardio workout that elevates your fitness conditioning to the extreme. Get a narrower waistline and a lifted booty.
Disco features fat melting routines like you've never seen. It uses 3 different combo routines where you'll strengthen and condition your hips, thighs, buns and abs.
The bonus Sexy Sculpt disc teaches you how to get  a flab-free sculpted body. No equipment or weight are required, only the will to get the sexiest dancer's body you've ever dreamed of.
Get the Flash Player to see this player.
You can order the 4-disc Xtreme Cardio Dance set with all original music for just $39.95 plus the cost of shipping and handling. It comes with a 30-day money back guarantee.