Torso Ball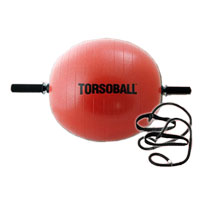 The Torso Ball is the ultimate ab workout. You can get sexy and tone abs in as little as just 3 minutes a day.
It is designed to help transform your abs from flab to fab quickly. Not only is the Torso Ball effective but it is a low impact workout that doesn't place any strain on your neck or back like sit up or crunches.
The special design targets and places all the resistance in abdominal area and creates the optimal position for training.
Using the Torso Ball can give you twice the results in just half the time when compared to sit ups and crunches.
Plus not only do you workout your abs, but you'll be working out your entire upper body as well. As you move you'll engage the arms, shoulder and back too.
The Torso Ball is compact and lightweight, so you can use it anywhere in your home. There's no assembly required, you just inflate it and your ready to go.
Get the Flash Player to see this player.
The Torso Ball comes with a sling shot power cord and sells for $99.99 plus shipping and handling. You can also take advantage of a trial offer and try it for 14 days first by paying $14.95 plus shipping and handling.
Plus as bonus you'll get a deluxe upgrade for Torso ball for free. It adds a No-Pain Knee Pad, a Quick Air Pump, and Jerry Abbott's Torso Ball Exercise DVD.