Top Trainers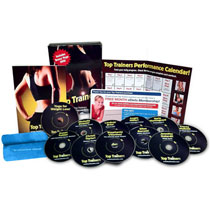 The Top Trainers Workout DVD set gives you a complete fitness routine that can help get your body into shape and transform your life. It includes a total of 10 different workout DVDs for top 10 fitness experts.
Top Trainers is designed for the busy women with workouts as quick as just 6 minutes. You can forget the gym and workout at your own schedule from home with the 10 different DVDs.
You'll get a wide variety of exercises that includes cardio, core, bun, thighs, kick boxing, yoga, ballet, Pilates, Latin dance and more.
Top Trainers incorporates the BLEND METHOD in order to help produces better results. It varies your workout routines to prevent you from getting bored, avoid plateaus and help you stick to the exercise program.
Research shows that people are much more likely to enjoy their exercise and stick with their fitness goals when they diversify their workouts. Those who follow the exact same routine all the time often experience burnout and plateaus.
The 10 DVDs in Top Trainers are:
Lindsay Brin's Shed 5 Fast - Burn fat and shed 5 lbs fast with simple interval training
Yogini with Ellen Barret-  Combines yoga and pilates for toning and flexibility
Angie Miller's Core & Strength Fusion – Helps define and sculpt your body with the continuous movement method
Jennifer Gallardi's Ballet Body - Get a ballerina's body with mini ballet routines
Tracey Mallet's 6 Minute Quick Blast – Speed up your metabolism and burn calories faster
Michelle Dozois's Your Body Circuit - Mix cardio and sculpting intervals for a fitter body
Illaria Montagnani's Power Strike 5 - Get the optimal cardio with martial arts moves
Christi Taylor's Mission: Possible – A fun step and multi-impact workout
Susan Tuttle's Latin Sensation – Use Latin dance while you trim and tone your body
Stephanie Vitorino's Ultimate Body Shaper – Transform your body with a blend of aerobics and mat workouts
Get the Flash Player to see this player.
The Top Trainers Workout DVD set sells for 3 payments of $29.95 plus the cost of shipping and handling. Plus as a bonus it comes with 5 free gifts.
You'll get a Fitness Guide, Wall Calendar, Resistance Band, Bonus Yoga for Weight Loss DVD and a 1 month free subscription to eDiets.com.