Shadow Boxer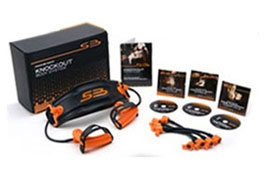 The Shadow Boxer Knockout Body System is the secret in Hollywood for getting a hot bod. 
It gives you the body-sculpting and fat-burning benefits of boxing but without the expensive equipment or having to go to the gym.
It is simple and easy to use. You just slip on the Shadow Boxer belt, set the level of resistance, and you're ready to go.
You can lose 10 pounds in just 10 workouts. Plus you'll be losing weight at less than $1 per pound.
Shadow Boxer has workouts in 3 minute Burn Rounds. They combine 2 minutes of fat-burning cardio and 1 minute of ultra body-shaping resistance to transform your body quickly and efficiently.
It uses 7 easy-to-follow signature moves. They well quickly tone your arms, shoulders, chest, back, abs, buns, and thighs. You will get the lean, firm body you've always wanted.
The Shadow Boxer Kit comes with:
Shadow Boxer Training Belt
Lightweight Power Cords
Middleweight Power Cords
Heavyweight Power Cords
Adjustable Hand Grips
Knockout Body Burn Basics DVD
Knockout Body Express DVD
Knockout Body Extreme DVD
Knockout Body Eating Guide
Get the Flash Player to see this player.
The Shadow Boxer Knockout Body System  retails for $49.99 but right now you now you can order it for just $18.99 plus the cost of shipping and handling.