Rhythm Rocker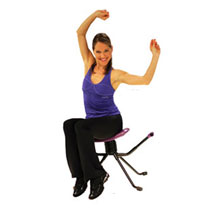 The Rhythm Rocker By Kymaro lets you get great abs with ever having to do any crunches on the floor again. You'll get the most effective core and ab workout while sitting down.
Unleash the inner dancer in you and replace boring workouts with the Rockin' Latin, Crunchin' Hip Hop, and Rollin' Belly Dance moves of the Rhythm Rocker.
You can tighten and tone your entire upper body, including the abs, obliques, shoulders, arms and lower back. This is all while learning some new dance moves.
The EZ-grip handles on the Rhythm Rocker lets you  create your own level of resistance by leveraging your own body weight against the tilting action of the seat.
The exclusive Stabilizing InterAxial Technology is able to tilt in a full 360 degrees, this gives you dual-direction resistance and lets you advance seamlessly from one core exercise to another
Using the Rhythm Rocker positions you correctly for all the exercises for maximum results. The Rhythm Rocker can be assembled quickly, is complete stable and safe. It is also lightweight and can easily be moved around.
Get the Flash Player to see this player.
The Rhythm Rocker sells for 3 payments of $33 plus shipping and handling. It includes the Rhythm Rocker, an Easy Carrying Bag, 2 Intro DVDs, a 7-Day Fat Burning Program and a Nutrition Guide.
You can also add the Deluxe DVD Workout Collection to your order for an additional $29.95, $30 off the regular price of $59.95. It contains 3 additional premium workout DVDs.