P90X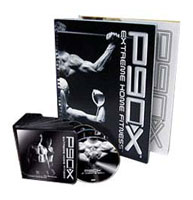 P90X is the most extreme home fitness system ever. It can get you absolutely ripped in just 90 days, guaranteed.
With P90X there are no gimmicks, no machines, and no excuses. It is just real results.
The revolutionary system of P90X is a combination of 12 sweat-inducing, muscle-pumping workouts with your personal trainer Tony Horton.
The secret behind the P90X system is an advanced training technique called "Muscle Confusion".
This process accelerates your results by constantly introducing new moves and routines so your body never plateaus, and you never get bored.
The 12 Muscle-Pumping P90X DVDs includes:
Chest & Back
Plyometrics
Shoulders & Arms
Yoga X
Legs & Back
Kenpo X
X Stretch
Core Synergistics
Chest, Shoulders & Triceps
Back & Biceps
Cardio X
Ab Ripper X
Get the Flash Player to see this player.
You will also receive the P90X 3-Phase Nutrition Guide, the P90X Fitness Guide, and the "How to Bring It" video for a quick overview of the PX90 system.
Plus you get the P90X calendar to set your workout goals and track your progress. In addition, you get free online access to support tools to get tips from fitness experts, peer support, and motivation.
You can order the P90X system for just 3 easy payments of $39.95 plus shipping and handling. It comes with a 90-day money back guarantee.