Flex Shaper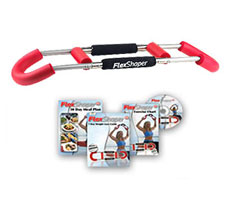 The Flex Shaper can help you get the toned upper body that you've always wanted. It is a lightweight, portable and compact training tool that delivers resistance training with aerobic exercises.
You can use the Flex Shaper to work out triceps, biceps, your back and even your thighs to shape your entire body.
It will help build lean means without bulking up. Plus with the resistance training technology there are no weights required to get into shape.
Simply incorporate the Flex Shaper into your workouts that focus on the chest, arms, back and shoulders, biceps and triceps, for great results. You can also use it target the inner thigh to get sleek, sexy legs.
The Flex Shaper can be used by any age group, gender and is great for all fitness levels. It can help you achieve your weight loss and muscle toning goals.
Get the Flash Player to see this player.
The Flex Shaper costs 2 easy payments of $19.99 plus shipping and handling. A Exercise Guide, Workout DVD, Meal Planner, and Weight Loss Guide is included.
Get the Flex Shaper Resistance Training Exercise Device & Program