Brazil Butt Lift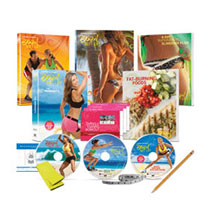 Leandro Carvalho's Brazil Butt Lift is the proven method used by supermodel's to get the perfect butt. It is designed to reduce, reshape, and lift the behind.
Many of the world's top lingerie and bikini supermodels, including Alessandra Ambrosio, have sought out Leandro to get their bodies and booties into shape.
Now you can get his once elusive fitness program on DVD so you too can get a firm, lifted butt that looks better in all sorts of clothing, including in bikinis, lingerie, or jeans.
Wtih Brazil Butt Lift you get 5 hot workout on 3 different DVDs. These workouts features a combination of fun Brazilian dance, cardio, and signature lower-body sculpting moves to help get your behind into shape.
The secret behind the effectiveness of these workouts is Leandro's proven TriAngle Training method, which works all three major muscles of the buttocks from multiple angles.
Get the Flash Player to see this player.
Plus Brazil Butt Lift also comes with an assortment of tools to help you get your body into shape. It includes the Booty Makeover Guide, Fat-Burning Foods Guide, Triangle Training Workout Cards, Measurement Tracker Card and Tape Measure.
Order Brazil Butt Lift today for 3 easy payments of $19.95 plus shipping and handling. It comes with a 30-day money back guarantee and you'll also receive a set of bonus gifts with your order.
You get the 6-Day Supermodel Slimdown Plan, Booty Resistance Bands, Bum Bum Rapido Workout DVD, and free online support.