Billy Blanks PT 24/7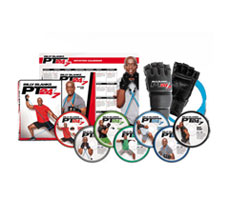 Billy Blanks PT 24/7 is the ultimate Tae Bo workout that can help you get sculpted and toned fast. You can feel the results in 24 hours and see the results in just 7 days.
This ultimate workout was created from Billy Blanks' over 40 years of martial arts and fitness experience. It is his most poweful Tae Bo fitness system yet.
Billy has already motivated, inspired and helped millions of people around the world get into shape and feel great with his ground-breaking Tae Bo workouts. You can be one of them too with PT 24/7.
Billy Blanks PT 24/7 is a physical training program where you will you can feel and see the difference fast. It includes Billy's specially developed cardio gloves and bands to help maximize results.
The gloves and bands are designed to work together as a unit in order to help you burn away fat,  sculpt your muscles and give you an effective cardiovascular workout.
In PT 24/7, Billy Blanks will teach, motivate and inspire you to get the most out of  the workout DVDs in order to transform your body and get into shape.
Get the Flash Player to see this player.
Billy Blanks PT 24/7 comes with 6 workout DVDs, the cardio gloves and bands, Billy's Nutrition Guide and a Rotation Calendar. It sells for 5 payments of $19.99 plus the cost of shipping and procesing.
With your order, you'll also receive a set of bonus gifts. It includes an extra PT 24/7 Body Blast DVD and access to PT 24/7 Club, where you'll receive additional workouts, fitness tips, and advice. Plus you'll also get a free upgrade to express shipping so you get the PT 24/7 system faster.